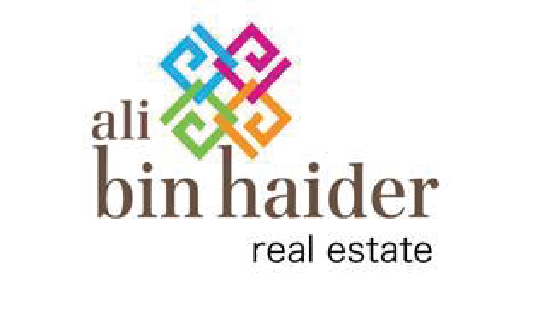 ALI BIN HAIDAR REAL ESTATE LLC
Bin Haidar Real Estate represents years of expertise and integrity in property management, in Dubai and around the world. Every client is greatly valued and can certainly benefit from our specialized services and unwavering support. From helping you find the right home, to managing your property, to enabling you to invest in one of the world's hottest markets, you can count on us for fast, reliable and professional services.
The future has great things in store. We will continue to build on our accomplishments. By adopting continuous improvement in every aspect of business, Bin Haidar real estate is committed to upholding the trust that it enjoys from its valued clients and investors, and affirms its leadership position in the real estate industry.
The world over, property continues to represent a safe long-term investment unrivalled by any other investment vehicle. That truth holds good in Dubai, too. Be it investing in a single residential property or investing in a portfolio of properties, Bin Haidar has the unparalleled expertise that will work out the maximum advantage for you. No matter how big your dreams, our professionals can help you accomplish them in a timely manner.
Residential, commercial and retail property sales
Market research and evaluation
Relocation advice and support
Investment consultations
Individual and corporate support
Client property portfolio management
Dubai's real estate sector is growing at a rapid pace and it presents tremendous opportunities for everyone. As a lucrative investment destination, it has evolved into a global hub of industry, commerce and tourism in just a few short years. From functional apartments to signature villas, Dubai offers a wide array of properties. We can help you gain access to some of Dubai's premium investment options.
Buying a free hold property in Dubai is much more than being just a property owner. One becomes a proud owner of prime property in one of the world's most prestigious and well-known projects. We also look forward to working with and serving investors who are interested in investing in Dubai's booming real estate market.
Bin Haidar Real Estate is a renowned and respected property investment and real estate services organization. Established a decade ago in Dubai, it is part of the Abdulla Ali Bin Haidar group of companies. Bin Haidar Real Estate ranks among Dubai's premier service providers in this rapidly growing sector, with expertise in the management and marketing of virtually every kind of real estate service.
We believe every individual's needs are unique and, hence, our growing spectrum of real estate related services is wide-ranging and diverse. Whether you are seeking to sell, lease, buy or rent a property, get investment counsel and support or property management, you can count on our unrivalled market knowledge and industry expertise to help achieve your objectives.
رؤيتنا
علي بن حيدر للعقارات هي شركة إقليمية تقدم خدمات إدارة وتطوير العقارات .
هدفنا :
هو أن تكون شركتنا من رواد عالم العقارات التجارية ، التجزئة و السكنية. ونحن سوف نخدم عملائنا ونلبي كل الاحتياجات وسوف نقدم باستمرار قيمة مضافة للمجتمع في إدارة وتطوير العقارات . نحن ندرك الحاجة إلى أن تكون هنالك درجة عالية من المرونة في تنظيم المشاريع سواء كأفراد أو كشركة. نحن نؤمن في العمل الجماعي، والابتكار، والكفاءة المهنية، واتخاذ القرارات على المدى الطويل. ونحن نسعى للحفاظ على سمعتنا و تعزيز النزاهة من خلال جميع أعمالنا.
مهمة
ونحن نقدم خدمة أكثر مهنية وغنية بالمعلومات، الوفاء والاخلاص في هذه الصناعة من سمات خبرائنا ، مصلحة عملائنا سوف تأتي دائما في المقام الأول، وسوف نضع اهتمامات العملاء في كل صفقة امام اعيننا، ونحن حريصون على تطوير العلاقات مع العملاء على المدى الطويل !
فلسفتنا ان نعمل بنهج الفريق الواحد لنضمن ان احتياجاتك مهمة إلى كل عضو في منظمتنا.
Vision
ALI BIN HAIDAR REAL ESTATE is a regional, full-service real estate development and management company. Our objective is to be a profitable leader in commercial, retail and residential real estate. We will serve our customers' needs and will consistently produce and manage developments of lasting value to the community. We recognize the need to be flexible, entrepreneurial, and aggressive, both as individuals and as a company. We believe in teamwork, innovation, professionalism, and long-term decision-making. We endeavor to preserve and enhance our reputation for integrity through all our actions.
Mission Statement
We provide the most professional, informative, loyal and dedicated service in the industry. The best interests of our clients will always come first and we will place the clients' concerns ahead of our own in each and every transaction, as we are dedicated to the development of long-term client relationships! Our team-approach philosophy ensures your needs are important to each and every member of our organization.